Your Packing Essentials For Summer Getaways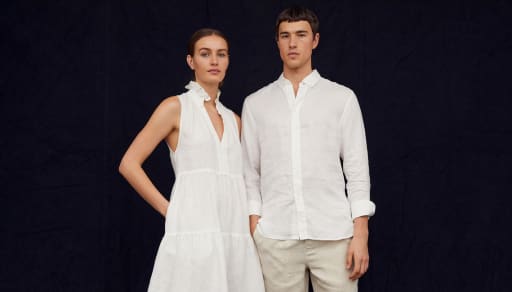 Packing mishaps can range from pure inconvenience (like forgetting a swimsuit to a beach holiday) to completely disastrous (like leaving a country without your wallet), but most are completely preventable. It can help to have a list of essentials to take with you on your holidays, so we've curated a collection of SABA must-haves that will make your next summer escape an absolute breeze!
S/B/ Lila Linen Tiered Dress
Available in a dynamic range of elevated hues, this bespoke dress features a tiered silhouette, a sleeveless cut and a linen construction for a breezy and lightweight finish. Perfect for trips to the beach or for late dinners in the summer heat, this dress is the perfect all-rounder for any warm-weather holiday. Wear it over your swimsuit or style it with strappy sandals for an afternoon stroll!
S/B/ Carlisle Denim Shirt
Made with premium cotton, this classic shirt is available in a light wash to mix and match into your existing wardrobe with ease. Made to be versatile, this shirt includes a classic collar and full-length sleeves — the perfect layering essential to bring with you to any holiday! Style it with your jeans for a dinner out, or complete it with a pair of shorts for a trip to the beach. You can't go wrong with a few basics on any holiday.
Antonia Tee
Exude effortless charm in this breezy shirt. Made to refine your daily style, this shirt includes a viscose mélange jersey construction, short sleeves, a curved hemline and a crew neckline. Perfect to wear with denim shorts or your favourite white skirt, this tee offers complete versatility whether you need it for an afternoon in the sun, or a slow brunch with friends.
S/B/ Kent Linen Short
Boasting a generous range of hues, these shorts have been made with linen for a breathable and comfortable fit. Complete with an elastic waistband, front and back pockets and a functional drawstring, these shorts are perfect to pair with your favourite polo or a button-down shirt. Wear these over your swimsuit to the beach, or slip them on for an easy breakfast by the water; these shorts are an absolute must-have.